Updating your Communication Strategy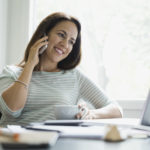 August 23, 2017 · blog, business building, people
Do you know how often your clients want to hear from you? It's probably more than you think.
Communication is key when building and maintaining relationships with clients. Make sure to look at your strategy and update your regular communications. Touching base with your clients doesn't have to be just about their investments. It is important to know your clients and not neglect "real relationship management" side of your business.
If you are looking to attract and retain clients; communicate with them regularly and not just about investments or update letters once or twice a year.
Read Investment Executive for more information and to get more tips: Why it's time to update your communication strategy.