The four C's that drive change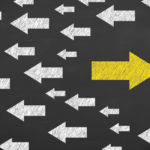 April 26, 2017 · blog, business building, people
Explore the motivating factors behind switching broker/dealers.
It seems reasonable—and anecdotal evidence supports this conclusion—that advisors who elect to change their broker/dealer affiliations leave what they regard as less-than-satisfactory career situations at their current firms to seek broker/dealer relationships that will increase both career success and job satisfaction. The motivating factors can usually be grouped into four primary categories: compensation, culture, challenge and control.
Culture
An advisor may be pursuing or want to pursue a niche market, targeting clients by lifestyle or investable assets, for example.
These advisors need a firm that will support such an endeavour through sophisticated technology, marketing support or targeted services.
They may be dissatisfied with the effects of a broker/dealer merger or acquisition on the firm's culture.
Some advisors leave wirehouses for independent broker/dealers or smaller regional firms because they prefer to have more control over their careers rather than being faceless numbers at huge firms.
Compensation
Many advisors believe their commissions or fees fail to meet their expectations due to deficiencies in the work environment.
These advisors may feel that their firms, teams or supervisors are not supportive enough, thus limiting their full earning potential.
Most leave their current firms in pursuit of higher payouts, front money, signing bonuses, improved employee benefits, the ability to monetize (sell) their book of business, or other forms of compensation.
Control
Some advisors may want more flexibility in the types of financial products they may offer to clients.
Others may not want to be restricted to a certain geographic area.
Some may feel they deserve to own the relationships that have been built with clients, which means retaining control of their books of business.
They also may be looking for more flexibility in establishing a brand for their practices that is independent of the brand of their firm.
Challenge
Some advisors—certainly not all—want to take on the responsibility of running their own businesses.
They want to handle all their own administrative and managerial tasks, choosing office space, selecting office furniture and carpet colour.
Only firms that facilitate truly independent advisor affiliations will typically allow this.
On the other hand, some advisors may want and need more time to spend with clients one-on-one.
Their current work environments, in cases where the firms insist on pushing certain products—seriously impair such efforts.
More independence may be the answer to such challenges. It is always an individual choice.