Maximizing client engagement during a review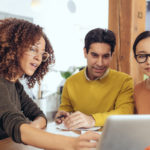 March 29, 2017 · blog, business building
The client review has many benefits, but the key objective is ensuring that your clients are confident about achieving their goals.
Actively engaging clients in the planning and review process will ensure everyone gets maximum benefit. Studies have shown that delivering information in a lecture format results in only 5% information retention. It's much better when your meetings involve visuals, demonstration and discussion and clients can get "hands-on" with the process. Our internal software planning tools, such as Goal Planning & Monitoring, provide opportunities to bring many of these elements into the review.
Do Your Research
This includes review of client notes, online research for things the client has been doing via social media sites, and gathering thoughts about friends, family members and other client interests so a list of engaging questions can be created.
Prepare an Agenda
Preparing a clear agenda will help keep the meeting focused on the highest priority items, help you address the main points in a time-efficient manner and illustrate your professionalism. Consider allocating specific times to be spent on each area so all the important segments are covered.
Involve both spouses
For couples, both spouses really need to be involved. Clients make better decisions together, have deeper relationships with the advisor and have double the center of influence penetration, according to the Oechsli Institute. Smiles and nods are not guarantees that a client is engaged. The spouse nodding to you is simply indicating that you may continue talking. You need to get everyone actively involved in the conversation and decisions. Even if someone doesn't want to be involved in all decisions, they should still be engaged at certain times, such as during goal planning conversations. And take the time to understand their points of view as well. You also might consider phone calls to start re-engaging nonparticipating spouses. Some conversation suggestions from Oechsli:
"I know I spend most of the time talking to Pat, but I wanted to catch up with you for a few minutes. Is there anything on your mind financially?"
You can also call and stress the importance of both spouses attending future meetings. Explain that at this stage you really need to catch up with both of them regarding goals and other important family issues.
An effective client review does more than just convey what happened in the last month, quarter or year. It deepens the relationship and is an opportunity to re-establish your relationship with your client and their family.